normal> United States Intelligent Machine Control company produced Pacesetter2.0 control system (hereinafter referred to as IMC, Email:). It can provide a convenient and efficient computer control system for existing flexo presses, as well as flexo printing with computer control without purchasing new machines. Compared to the cost of buying a new device, Pacesetter has the following advantages while saving costs:
Normal > l          Greatly shorten the setup time
Normal > l          Reduce waste
Normal > l          Makes the consistency of the print size of the same batch of cartons higher (this is especially important when using automatic paper feeding equipment)
Normal > l          Thanks to the use of an improved graphical interface, operator operations can be reduced and training can be reduced
Normal > l          Can make small batches, short order production
Normal > l          Built-in connectivity and a new SQL database simplify scheduling, making the interface easier to access to a centralized scheduling system.
Normal > l          Support IMC download update software and remote fault diagnosis, and handle the fault through the Internet
Normal > l          Can recover investment within 5 months
Normal > Many old machines no longer use mechanical operations and can be set up for computer control. The problem is that if a machine is used for 30 years or more, the control system may be outdated for 7 years. Even more serious is that because suppliers have been merged or closed down, there will be a lack of corresponding after-sale technical support. Therefore, there will be an annoying situation where the technological level is outdated and the prices of parts and services are climbing.
Normal > Since 1998 , the processing machine control system has become the only business of IMC . The company has replaced or retrofitted more setup controls for flexo folding and box presses, including a variety of mechanical configurations such as the Lanston calibration unit.
Next: paper stationery faced with a huge amount of anti-dumping duties on US: pharmaceutical packaging design concept should be changed to meet market demand
[News Search] [Add to Favorites] [Tell a friend] [Print this article] [Close window]
Similar information
Cutomize Jewelry Tray
Create spectacular storage spaces within your custom closet designs with Velvet
Jewelry and Lingerie
Trays from the October Company. Jewelry Trays(jewelery tray&Jewelery Box)
offer scratch-resistant storage for
jewelry and otherprecious items.
Velvet ring pads add function and velvet covered dividers can be
configured into many
useful compartments. Lingerie Trays provide snag-free storage protection for
lingerie, ties, stockings and other delicates. Contact us for stock sizes and pricing
information.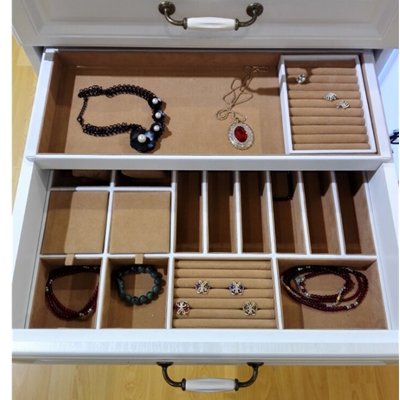 Save
Jewelry Trays
Jewelry Trays,Stackable Jewelry Trays,Jewelry Storage Trays,Jewelry Tray Organizer,Jewelery Tray,Jewelery Box
Dongguan Meijiamei Decorative Material Co., Ltd. , http://www.cabinet-fittings.com