Shanghai Haozhuang Instrument Co., Ltd. has developed the LNB brand artificial climate box, which is energy-saving and environmentally friendly, leading the country. Professional manufacturing is more secure and affordable. Uses: This product is suitable for plant growth and tissue culture, seed germination, nursery, microbial cultivation test; breeding of small insects; BOD determination of water quality monitoring; aging and life test of medicinal materials, wood, building materials, etc. Special test equipment for light, constant temperature and constant humidity. Structural features: High-precision cold and hot constant temperature equipment with light and humidification functions. Using advanced microcomputer programmable technology to control temperature, you can set a variety of parameters (including temperature, humidity, light intensity) to simulate the natural climate. Illumination adopts special high brightness fluorescent lamp. Light touch adjustment switch, light and flexible. LED digital display, adjustable in multiple modes, easy to operate.
Technical advantages: 1. Multi-window digital display. 2. Full computer control, 1-30 segments programmable, 30 sets of different control parameters can be set. 3. Optional RS485 communication interface, to achieve communication with the host computer, real-time recording of operating data. 4. The temperature is controlled by PID, and the temperature control accuracy is high. 5. It has a power-off memory function to ensure that the instrument can continue to run from the breakpoint after power-on. 6. It has super strong ultraviolet sterilization function to ensure a pure culture environment. 7. Aluminum alloy frame, light and beautiful, never rust. It not only has the function of over-temperature protection and sensor abnormal protection, but also has an independent air-channel over-temperature protection device, double protection, which provides more protection for the safety of instruments and samples.
Application: Please turn on the fan switch (ie "lighting" button) immediately after turning on the power to prevent the heating part from heating in the absence of wind circulation (when the memory temperature value is less than the ambient temperature value, it is a safe state, such as the memory temperature value is greater than When the internal temperature of the studio is working, the heating part will work immediately after starting up. Therefore, you need to turn on the fan first to circulate the wind, so that the overall temperature can be uniformly controlled by the thermostat to avoid the possibility of burning out parts at local high temperatures, so I suggest you In any power-on situation, the fan switch must be turned on first, and the fan must be working properly. Then set other parameters. The ordinary artificial climate box is a high-precision cold and hot constant temperature device with light and humidification functions, providing users with an ideal The artificial climate experimental environment. It can be used for plant germination, nursery, tissue, microbial cultivation; insect and small animal breeding; BOD determination of water analysis and other artificial climate tests. Structural features: Insulating glass structure , Good light transmittance, heat preservation and energy saving, easy to observe. Unique appearance structure design , The outer box is color sprayed, the whole machine is beautiful and generous. The stainless steel liner, the interior is corrosion-resistant and easy to clean. The box is equipped with shelves, users can adjust the height of the interval and the number of shelves according to needs. The excellent performance temperature control sensor is adopted Advanced and reliable digital components, accurate temperature control and high accuracy. The inner tank is made of high-quality stainless steel materials, the box door has a large viewing angle of insulating hollow tempered glass, which is convenient for users to observe. The use of high-quality magnetic door seals and insulation materials makes the whole machine The performance is more superior. According to the user's needs, the illumination can be designed on three sides or on four sides. The constant temperature control system has fast response and high temperature control accuracy. It uses ultra-microwave humidification, reliable humidification, uniform humidity, air duct ventilation, and soft studio wind speed. Even temperature; aluminum alloy frame, light and beautiful, never rust; with over-temperature and sensor abnormal protection function, and equipped with independent air channel over-temperature protection device, double protection.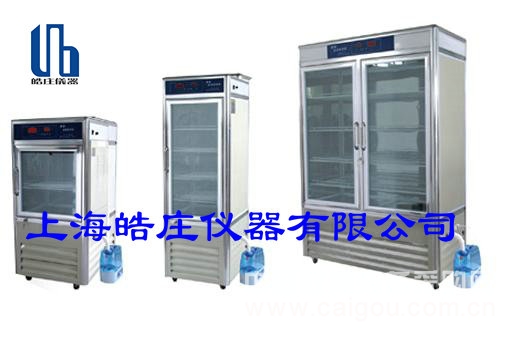 Shanghai Haozhuang Instrument Co., Ltd. is a variety of biochemical, light incubator, shaking incubator, constant temperature incubator, mold incubator, hot and cold cycler, shaker, oscillator, stirrer, water bath, centrifuge, electric heating plate. Professional manufacturing enterprise. The company integrates the research, development, production and sales of high-tech experimental instruments. Its products have eight series and more than one hundred varieties. Relying on modern science and technology, the company continuously improves product quality and launches new products to keep it up to the international level. The products are exported to all parts of the country, and have won the trust of users with excellent quality and perfect service. The employees of the company always pursue the enterprise spirit of "unity, truth-seeking and innovation", with the purpose of "user first, quality first, reputation first", we sincerely welcome new and old customers to patronize, develop together and create brilliant!
Work Protective Clothing,Isolation Protective Clothing,First Protective Clothing,Sterile Disposable Clothing
ShenZhen Bri-Cloud Industrial Co.,Ltd , https://www.sobeautyhealth.com